Addressing substance abuse and violence in substance use disorder treatment and batterer intervention programs
Substance Abuse Treatment, Prevention, and Policy
2012
7:37
Received: 17 April 2012
Accepted: 1 September 2012
Published: 7 September 2012
Substance use disorders and intimate partner violence (IPV) are interrelated, major public health problems. Of men entering substance use disorder treatment programs (SUDPs), approximately 60% have perpetrated IPV [1–4], and of clients in Batterer Intervention Programs (BIPs; programs that treat IPV perpetration), similar proportions have SUDs. For example, of men court-referred to BIPs in Rhode Island, 68% were hazardous drinkers, 53% had an alcohol use disorder, and 31% had a drug use disorder [5]. Accordingly, to improve the quality of care and reduce the harm caused by SUDs and IPV, substance abuse policy researchers are calling for improved linkages between SUD and IPV perpetration treatment systems and programs, as well as better recognition of the cross problem within programs.
This study focused on a sample of programs in California to examine the extent to which SUDPs address IPV in their client population, and BIPs address SUDs among their clients. The study's design was guided by a modified version of Moos' (1997) conceptual framework [
6
] for informing SUD policy through evaluations of treatment programs (Figure
1
). This model is broadly consistent with the model of organizational change in addictions treatment outlined by Simpson (2004) [
7
]. It highlights the role of organizational factors and aggregate client characteristics in shaping the use of specific linkage practices within and across programs and how these factors influence treatment outcomes. Specifically, the model suggests that linkages are shaped by characteristics of the organization, such as size and funding, and the types of clients served [
8
,
9
], and that stronger in-program and cross-program linkages are associated with more positive client outcomes [
10
,
11
]. However, we lack critical data from SUDPs and BIPs on these domains, particularly the extent to which SUDPs address IPV in their client population and the extent to which BIPs address substance abuse among their clients.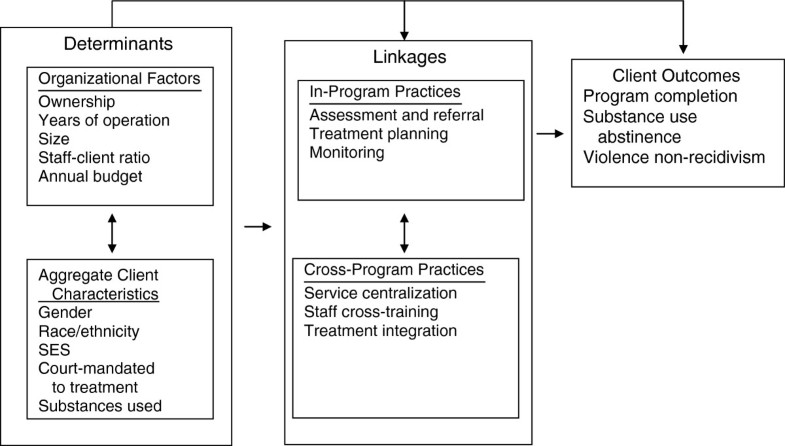 (1)
Center for Health Care Evaluation, Department of Veterans Affairs Health Care System and Stanford, University Medical Center, Palo Alto, CA, USA
(2)
Department of Psychology, University of Washington, Seattle, WA, USA
(3)
Department of Psychology, University of Tennessee-Knoxville, Knoxville, TN, USA
(4)
Center for Health Care Evaluation, VA Health Care System (152-MPD), 795 Willow Road, Menlo Park, CA 94025, USA
© Timko et al.; licensee BioMed Central Ltd. 2012
This article is published under license to BioMed Central Ltd. This is an Open Access article distributed under the terms of the Creative Commons Attribution License (http://creativecommons.org/licenses/by/2.0), which permits unrestricted use, distribution, and reproduction in any medium, provided the original work is properly cited.