Recruitment to doping and help-seeking behavior of eight female AAS users
Substance Abuse Treatment, Prevention, and Policy
2016
11:11
Received: 15 January 2016
Accepted: 2 March 2016
Published: 5 March 2016
Abstract
Background
Doping with anabolic androgenic steroids in sports has now developed to a widespread use of these agents among young people outside the sport. This is of major concern to the society. The purpose of the use is mainly for aesthetic reasons and is seen as a male phenomenon. But use also occurs in women where the knowledge is scarce. Our aim was to identify the pattern of doping agents in eight female cases and compare them with similar data from men.
Methods
Eight female users were recruited through Anti-Doping Hot-Line, a national telephone counseling service on doping issues during the years 1998–2004. The use was confirmed with urine doping analysis at the Doping Laboratory. The characteristic of use, co-use of narcotics/other doping agents, exercise pattern, adverse-side effects, family history and reason to begin was evaluated.
Results
The women used on average 1.9 different anabolic androgenic steroids and clenbuterol preparations. Ephedrine and growth hormone were co-used in five and one of the women, respectively. Three women reported co-use of narcotics (cannabis and cocaine).
The average duration of anabolic agent use before contacting health care was 58 weeks (range 7–104). Side effects for anabolic androgenic steroids (n = 5) included voice changes, clitoral enlargement, body hair growth, whereas women using clenbuterol (n = 2) reported tachycardia and depression. All women except one had a man in close relationship encouraging them to begin with the doping agents.
Conclusions
The use of doping agents in our eight women was different from that in male users. The women used less doping agents and were more prone to contact the health care, at an earlier stage, probably due to the adverse effects. The co-use with ephedrine, growth hormone and cannabis appeared to be in the same range as in men. This is the first study showing that a man in close relationship may motivate a woman to use anabolic agents.
Keywords
DopingWomenAnabolic androgenic steroidsClenbuterol
Background
Anabolic androgenic steroids (AAS) including testosterone, other endogenous androgenic hormones and synthetic compounds structurally related to these compounds, are commonly used by athletes to improve muscle mass and enhance exercise performance. AAS are the most frequently detected doping agents, testosterone being the predominant steroid (http://www.wada-ama.org). Notably, the use of these agents among nonprofessional athletes, as well as among individuals who want to enhance their physical appearance, is a growing public health problem and has become a major concern to the society [1–3].
Even though AAS use is mainly considered a male phenomenon, it is not limited to men. It has been estimated that the lifetime prevalence of AAS use is around 0.1 % in women [4]. Questionnaire surveys indicate that the numbers may be even higher among adolescent girls where lifetime prevalence values of 0.1–7.3 % have been reported [4–8]. However, some of these studies have probably over-estimated the prevalence since the questions used sometimes failed to distinguish between anabolic steroids, corticosteroids, and over-the-counter supplements that the respondents might have confused with steroids [4]. Nevertheless, AAS may develop to a health problem also in women [7] and preventive measures in the society are warranted [9].
Even though the illicit use of AAS may be considered a health problem in women, little is known about this group of users. The use of AAS in women and adolescent girls is highly associated with sport activity, body-building and weightlifting [7, 10], but the motives for starting the use of AAS have not been investigated in women.
In general, women appear to prefer doping class agents other than AAS, particularly those associated with weight loss, such as ephedrine and clenbuterol [7]. Clenbuterol which is a long-acting beta-2-agonist used in veterinary medicine [11] is classified as an anabolic agent according to WADA (www.wada-ama.org), since it exerts anabolic effects [12].
The negative side effects of AAS use in women include enlargement of the clitoris, deepening of the voice, increased facial hair, menstrual disorders, and acne. Changes in mood such as depression, irritation and aggression have also been reported [5, 7, 13, 14]. To our knowledge, the negative effects of clenbuterol abuse in women have not been described in literature.
Our aim was to identify the pattern of AAS and clenbuterol use in women and compare with similar data reported in men. The causes for initiating an illicit use, co-use of other doping agents and narcotics, as well as any side effects, reported or observed, were also assessed.
Methods
Eight women were recruited to the study between 1998 and 2004 via the Anti-Doping Hot-Line at the Dept of Clinical Pharmacology, Karolinska University Hospital, a free telephone counseling service for individuals affected by, or concerned with use of doping agents [
2
]. During the study period the Anti-Doping Hot-Line received 4339 phone calls and of these, 216 phone calls were from women with own doping experience [
2
]. Some of the women were calling several times and therefore the exact numbers of women calling during this period was not documented. Approximately 50 women were concerned about their side-effects of AAS and/or clenbuterol and were asked to participate in this study. A genuine desire to give up using anabolic agents (AAS or clenbuterol) was a prerequisite to be included. A flow chart describing the collection procedure is presented in Fig.
1
.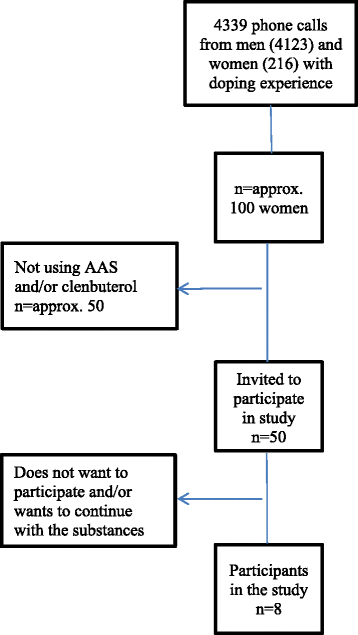 Participation was commenced after informed consent, and no economical remuneration was given. Male users were also recruited (n = 56) and the results regarding their demographics, side effects and co-abuse have already been published [15, 16]. The project was approved by the Ethics Committee of the Karolinska Institutet, Stockholm, Sweden. Blood and urine samples were collected at the visit. The urine samples were analyzed for AAS and other doping agents using the methods employed at that time in the WADA accredited Doping Laboratory, and for narcotic substances by routine screening methods at the Drugs of Abuse Laboratory, both at the Department of Clinical Pharmacology, Karolinska University Hospital. The cholesterol profile (HDL, LDL) and hemoglobin (Hb) were analyzed by routine methods at the Department of clinical chemistry (Karolinska University Hospital). All participants were personally interviewed by a study nurse including questions about 1) demographics 2) details about AAS use history and pattern 3) motives for starting AAS 4) co-use of other doping agents and narcotic substances 5) exercise pattern 6) family background and 7) any experienced side effects. If necessary, individuals were referred to qualified medical specialist at the hospital clinics of psychiatry or endocrinology and/or to a gynecologist.
Conclusion
This is the first study showing that a male partner or another man in close relationship may trigger use of AAS/clenbuterol in women. The women used fewer AAS substances and they were more prone to contact the health care at an earlier stage than men. This may be explained by a higher female inclination to experience many of the side effects. In accordance with earlier studies, several adverse effects were noted including clitoral enlargement, voice changes, menstrual disorders, acne, and mood changes. Ephedrine, growth hormone and cannabis were substances that were frequently co-used. These substances are also popular among AAS using males. General knowledge about AAS use in sports and in the society is important for the medical community and other people dealing with AAS users. This will improve our strategies for prevention and treatment. Our results indicate that not only treatment directions but also future preventing programs may be different between men and women.
Ethics, consent and permissions
This study was reviewed and approved by the Ethics Committee of the Karolinska Institutet, Stockholm, Sweden (Dnr: 186/98). Consent to publish from the participants in this study has been given.
Declarations
Acknowledgements
The Ministry of Culture and the Ministry of Health and Social Affairs are acknowledged for their financial support to the Anti-Doping Hot-Line. The principal investigator Christian Möller, MD and the study nurses Jens Börjesson, Ann-Charlotte Eklöf and Ann-Mari Thurelius are gratefully acknowledged for valuable contributions to the clinical handling of the study participants.
Open AccessThis article is distributed under the terms of the Creative Commons Attribution 4.0 International License (http://creativecommons.org/licenses/by/4.0/), which permits unrestricted use, distribution, and reproduction in any medium, provided you give appropriate credit to the original author(s) and the source, provide a link to the Creative Commons license, and indicate if changes were made. The Creative Commons Public Domain Dedication waiver (http://creativecommons.org/publicdomain/zero/1.0/) applies to the data made available in this article, unless otherwise stated.
Authors' Affiliations
(1)
Department of Laboratory Medicine, Karolinska Institutet, Karolinska University Hospital, Stockholm, Sweden
(2)
Department of Clinical Pharmacology, Karolinska University Hospital, Stockholm, Sweden