The role of lifestyle in perpetuating substance use disorder: the Lifestyle Balance Model
Substance Abuse Treatment, Prevention, and Policy
2015
10:2
Received: 17 September 2014
Accepted: 7 January 2015
Published: 17 January 2015
Abstract
Conceptualizing aetiology underpinning an individual's substance use disorder (SUD) not only facilitates insight and understanding, but also serves to identify targets for treatment and aid practitioners in selecting the most appropriate interventions. There is now a wealth of literature on aetiology and treatment approaches, and in more recent years, also literature to support the concept of 'recovery' from a condition which was previously thought of as a chronic, relapsing condition. The burgeoning literature around research into recovery is revealing how recovery can best be defined and what factors might be associated with recovery from SUD. To add further to this growing body of literature, a new six-domain, explanatory biopsychosocial model of substance dependence and recovery, the Lifestyle Balance Model (LBM) is proposed. Based on research findings and theory reported in the literature, the LBM is a generic model depicting six domains of biopsychosocial functioning and includes within it the role of lifestyle. The LBM has been constructed as a domain model, allowing conceptualisation of the relationships between the six domain areas that perpetuate dependence and may also be associated with recovery from SUD, providing service users and clinicians with a tool for the delivery of case formulation and identification of target areas for intervention.
Keywords
Domain Model
Negative Thought
Mental Health Difficulty
Comorbid Mental Health
Recovery Capital
Introduction
Understanding the aetiology of substance use is important as this may facilitate identification of potential areas of difficulty in functioning which may thereby serve as target areas for appropriate treatment and intervention [1]. However, for even the most experienced clinicians, it can sometimes be difficult to identify and conceptualize the many contributory factors that might underpin an individual's substance use and how these factors may be inter-related. Further complicating matters is that there may be important, sometimes causal relationships between each of the contributory factors underpinning substance use, including mental health and social functioning difficulties, relationship problems and other stressful life circumstances [2]. There are also multiple ways in which substance use is referred to in the literature, with a number of distinct diagnostic categories describing different kinds of substance use and differing degrees of severity of dependence [3], leading some researchers to refer to the broader, general category of 'substance use disorders' (SUD) (e.g.[4]). For brevity throughout this article, SUD will be used to refer to the broad range of forms of substance use.
Exploration and understanding of the causal relationships between each of these areas of difficulty forms an important first step in the treatment process [5]. This may be particularly important for individuals who are 'dually diagnosed', i.e. are experiencing comorbid mental health difficulties such as depression and anxiety alongside their SUD, as often mental health difficulties may be causally related to SUD [6]. The literature demonstrates that many individuals, as much as 75 – 85% of the substance using population, may self-medicate with substances in an attempt to alleviate mental health difficulties [7], although for many their use of substances may exacerbate the severity of their mental health difficulties [1, 7]. This would suggest that the majority of individuals with SUD could be deemed as being dually diagnosed and that comorbid mental health issues should be considered alongside the other aetiological biopsychosocial factors associated with substance use.
Biopsychosocial domain models may be useful in facilitating the understanding of aetiology as they allow multiple aspects of, and influences on, human functioning to be understood using a visual format [8, 9]. Most often domain models comprise a series of 'nodes' representing each relevant aspect of functioning and influence, with lines and arrows of direction between nodes demonstrating the relationships between them. Domain models that facilitate conceptualisation of aetiology of SUD, and identification of potential intervention targets, have become more common in recent years [8, 9], providing a staple approach in the addiction field in the UK, the US and elsewhere [10]. The utility of domain models allows service users and practitioners to make sense of the various contributing factors that perpetuate the cycle of SUD, and helps identify areas where change might be needed.
There are several benefits to using domain models, including their simplicity and clarity in conveying relationships of cause and effect, and their visually impactful format, which can help addicted individuals to remember and recall the information contained within them. Due to their emerging evidence base and ease of implementation across the UK treatment sector, domain models have been recommended by Public Health England (PHE), the Welsh Assembly and Scottish Governments as a method for broadening the clinical application of psychosocial interventions across SUD treatment. This far reaching initiative was introduced through the International Treatment Effectiveness Project [ITEP: 5], resulting in the utility of mapping techniques becoming the norm within UK clinical practice.
Domain models have been developed that are appropriate for use during specific stages of the treatment process, including treatment engagement [10], relapse prevention [11, 12], and mutual-aid approaches such as SMART recovery [13, 14]. However, as yet, there is no single model that can be used throughout treatment regardless of the treatment stage, whether it be initial engagement with the process or the point at which abstinence has been achieved or sustained. Nor does any domain model exist that takes into account the role of lifestyle in the aetiology and maintenance of SUD. Lifestyle, whilst often overlooked in much SUD research, has been emerging in the literature over the past decade as an area for consideration in aetiology and treatment (e.g. [15–17]).
Although there is no consensus within the academic literature about how 'lifestyle' is defined, the authors intend the term to mean the key ingredients that make up a person's health and wellbeing, including (but not limited to) relationships, employment status and accommodation. The impact that lifestyle balance can have on SUD cannot be overstated. For example, aspects of lifestyle imbalance, such as unemployment, relationship breakdowns and homelessness, are likely to increase the risk of and exposure to substance use as a coping mechanism. By contrast, aspects of lifestyle balance, such as stable employment, relationships and accommodation, are likely to strengthen a person's resilience to prevent or overcome substance use difficulties.
This paper therefore posits a rationale for and describes a new conceptual model of SUD that incorporates the role of lifestyle balance, the Lifestyle Balance Model (LBM- see Figure
1
). The LBM provides service users and clinicians with a domain model to aid the understanding of the aetiology and conceptualisation of SUD. The LBM also provides stakeholders with a domain model that can be applied at all stages of the treatment journey, not only to help them understand SUD but also to provide a tool for targeted treatment intervention.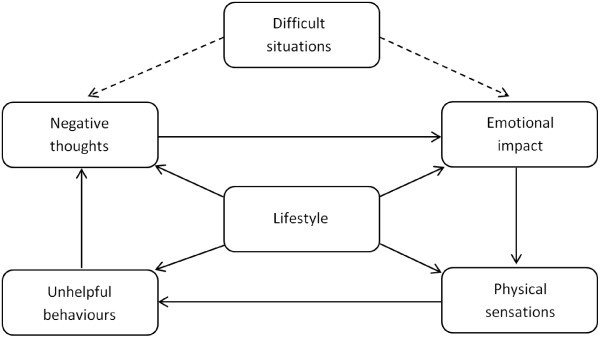 Authors' Affiliations
(1)
Breaking Free Group, Manchester, UK
(2)
Centre for the Study of Addictions and Recovery, National Development and Research Institutes, New York, USA
Copyright
© Davies et al.; licensee BioMed Central. 2015
This article is published under license to BioMed Central Ltd. This is an Open Access article distributed under the terms of the Creative Commons Attribution License (http://creativecommons.org/licenses/by/4.0), which permits unrestricted use, distribution, and reproduction in any medium, provided the original work is properly credited. The Creative Commons Public Domain Dedication waiver (http://creativecommons.org/publicdomain/zero/1.0/) applies to the data made available in this article, unless otherwise stated.